When did you start writing?
I started writing more seriously about fifteen years ago, when I became self-employed and supposedly had more time!
There is an historical crime novel sat in the drawer from then. It's pretty bad - all about Roman Britain, a glassblower and a time travelling heroine. I might go back to it some day.
I joined the village scribblers' group which helped concentrate my ideas.
A few of years ago I also joined a tutor-led writing class. This gave me loads more ideas and was a huge help in teaching me more about the craft of writing. In fact, if it hadn't been for my tutor insisting we submit work SOMEWHERE, I would never have got my book deal with Maverick. Thank you Cathy. 
Why do you write?
I was an only child and spent many happy hours creating characters to play with and fictional places to explore.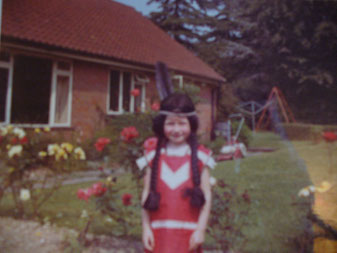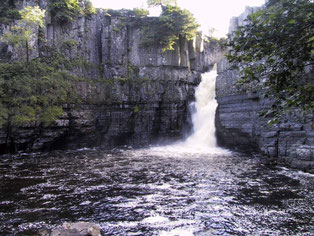 I journeyed along the banks of the Amazon river on many occasions when visiting my grandparents in Barnard Castle (it was actually the river Tees, but we're not bothered about the facts here!)
The number of anacondas I escaped from would amaze you.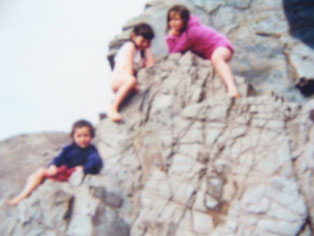 I became one of a group of castaways with my friends on the long summer holidays on the beaches of North Cornwall.

We struggled to survive, building shelters from driftwood and cooking on fires. I still miss the sea.
Stories entertain and take us to far off places, real or imaginary. They deserve to be written down for others to share.
I loved reading as a child and tried to instil that enthusiasm in all the children I taught. It's exciting to think that children today and in the future might just enjoy reading a book I have written.
Did you write as a child?
I loved creative writing at junior school. I tackled several plays. There was the one I wrote for Christmas and another about the adventures of some children and the usual set of baddies. I'm sure I based most of them on the books I had my nose stuck in at the time.
I wrote the occasional poem ('I Like') and often spent hours producing 'project' books on a variety of subjects. There was one about Hadrian's Wall, another about the parish church in the village where I spent lots of holidays, but the one I was most proud of was all about butterflies - I must have been a very boring child at times!
What are your favourite children's books?
When I was little I adored Dr. Seuss - 'The Cat In The Hat', 'One Fish, Two Fish' and 'Green Eggs and Ham' were particular favourites. I also read P.D.Eastman's 'Are You My Mother?' with great delight.
My own mother used to read me A.A.Milne's poetry and when I was a bit older I enjoyed works by Edward Lear, Hillaire Belloc, Spike Milligan and Ogden Nash. Lots of silly stuff really - probably how I came to write Mrs MacCready. Thank you Mum!
Good anthologies are 'The Armada Lion Book of Young Verse' and 'Nothing Solemn' - a great selection and all great fun.
As far as novels are concerned the list could be endless, but those I adored were :
Malcolm Saville's 'Lone Pine' adventure stories.
Most Noel Streatfield, but particularly 'Ballet Shoes' and 'The Growing Summer'.
Alf Proysen's 'Mrs. Pepperpot' series.
'Tom's Midnight Garden' by Philippa Pearce.
'When Marnie was There' by Joan G. Robinson.
'The Funny Guy' by Grace Allen Hogarth.
'Five Children and It' by E. Nesbit.
Becoming a class teacher to 8 and 9 year olds opened up a whole new world of books. I made sure we had at least ten minutes every day for 'Story Time', when I would read the next instalment of the book we had chosen. It usually turned into half an hour before we knew where we were!
During these quieter moments we found we loved Roald Dahl's stories and discovered a firm favourite in the books of Diana Wynne Jones - I would recommend them to everyone.
Roughly twenty years ago my pupils started muttering about certain Harry Potter books they were reading. I thought I'd better see what all the fuss was about - I was hooked.
Then about five years ago I read the first few books in the Artemis Fowl series (by Eoin Colfer), on the recommendation of a music student. If you like fast-paced adventure and fantasy mixed in with a good dose of humour, they're for you!
Finally, I have just finished 'Between Shades Of Grey' by Ruta Sepetys. Set during the time of Stalin's annexation of Lithuania, Latvia and Estonia, it has to be one of the best books I've read in a long time. I thoroughly recommend it for older children.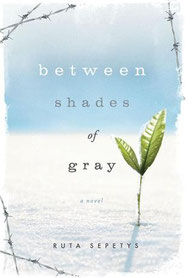 Where do you get your ideas from?
I sometimes dream about them - literally. I just wake up and have to scribble down what I've been dreaming about.
More often ideas come from snatches of conversation I've overheard or things children say to me. 
Where do you write?
Anywhere and everywhere really.
My official place is in 'the office' at home. It's where the computer lives. I try to keep one morning a week work-free and ignore the 'phone. Then I'll grab any other time that presents itself.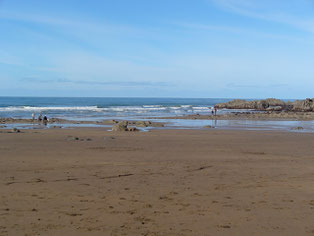 Sometimes you might find me on a small beach in North Devon, notebook and pen in hand, scribbling away as I watch what's going on around me.
As I said - anywhere and everywhere.
What happens when you finish a story?
I'm never certain I've finished. I'm always editing. I'll read it to the writing groups I belong to and take on board their feedback. Then I'll edit some more.
I have a large pile of 'finished' work at home. Sometimes I pull out bits and re-edit before deciding I ought to send them off to a magazine/competition/publisher. This rarely happens - it's easy to tell myself they're not good enough. Then I'll edit even more. Occasionally pieces get put in an envelope and even posted into the letter box. Miracles can happen.