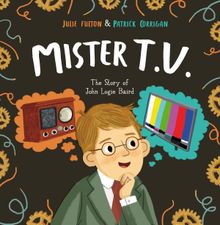 John Logie Baird loves inventing things - though not always successfully! When he hears about another inventor who has built a machine to show real live pictures, John sets about trying to do the same. Equipped with bits and bobs found in his house, John begins a journey which will change the course of history for ever.
Available now!
As reviewed by John Logie Baird's son and grandson! www.bairdtelevision.com
'It's great to see Maverick still publishing awesome books, and this brilliant account of John Logie Baird's life is well worth nabbing if your kids love science and love to learn more about the historical figures behind some of the world's greatest inventions.
A truly fabulous storytelling biography of one of the most innovative, inquisitive and clever inventors and his breakthrough work on bringing modern television to the masses.'
www.readitdaddy.blogspot.com
'The text is written in a fun and easy to read way that children will understand and enjoy. The illustrations are big and vivid, clearly explaining what is going on.'
www.whatsgoodtoread.co.uk
'The story doesn't just talk about how he invented the TV but explores many of his inventions, including the ones that went wrong. This is something I really love about the book - it shows that sometimes things don't work out but that if we keep trying we can find something that does. It's a great message of resilience, perseverance and creative thinking.'
www.theishmother.co.uk
Bears Don't Eat Egg Sandwiches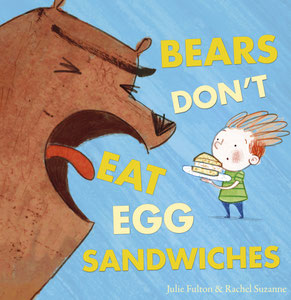 Jack has a rather grizzly visitor arrive for lunch, but it doesn't want to eat any of Jack's egg sandwiches. So what do bears eat for lunch?
Reviews for Bears Don't Eat Egg Sandwiches
'We've had plenty of fun enjoying Bears Don't Eat Egg Sandwiches this week and we can't get enough of this humorous story with an irresistible repeated refrain! The story evokes elements of both The Tiger Who Came to Tea and Green Eggs and Ham, creating a wonderfully amusing new world of its own where boys negotiate lunchtime with bears in the most matter-of-fact kind of way. We love the bold, colourful illustrations that contrast the cartoon-like enormous bear with the photo-style collages of egg sandwiches, perfectly encapsulating the way in which the story merges the mundanity of lunchtime with the ludicrousness of the bear. We highly
recommend this book and we are certain that this one will quickly become a story-time favourite.'
www.booksfortopics.com
Fulton's narrative takes us through hilarious twists and turns that will have you giggling over your sandwiches. I love the playful tone of Rachel Suzanne's contemporary illustrations.'
www.mybookcorner.co.uk
'I strongly recommend this very funny picture book which has all the requisite ingredients of a great story to read aloud. It has a plucky and sensible child at the centre and is packed with jeopardy from the outset. The bold illustrations are full of detail and I particularly liked the dense brown of the bear which fills quite a lot of the pages and helps to emphasise his bigness. I also enjoyed the photo montage of a wide variety of real egg sandwiches which give an extra dimension. I very much look forward to sharing it with children and talking about what they might do if a bear came to their house demanding to be fed.'
www.letterpressproject.co.uk
The Ever So Series of Picture Books
Each story takes place in the fictional town of Hamilton Shady. Larger-than-life characters have plenty of crazy adventures as they teach children the dangers of bad habits!
Told in fun, rhyming verse accompanied by vibrant illustrations.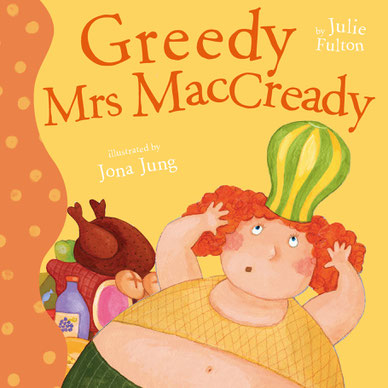 In the small town of Hamilton Shady there is a rather large problem. Mrs MacCready won't stop eating and is soon towering above the town. There can only be one outcome.....
'This fantastic little book from Julie Fulton & Jona Jung is crazy, funny and wonderfully irreverent. There is a moral message mixed with the excellent rhyming text and colourful illustrations, but don't let that worry you too much. Kids love characters like Mrs MacCready and they particularly love anyone who can get away with scoffing all the things kids are constantly told are bad for them! We've often heard that one children's author or another is 'The Next Roald Dahl', but Julie Fulton nails that essential mix of craziness and the macabre so effectively she deserves that particular plaudit more than most.'
www.readitdaddy.blogspot .co.uk 
'It's a glorious romp of a book.'
The Bookbag.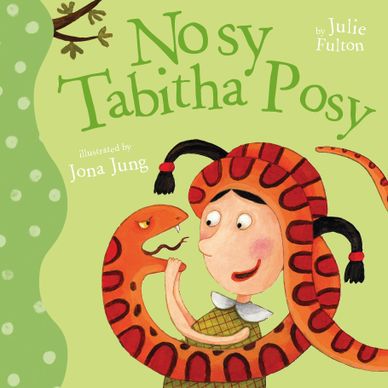 Tabitha Posy annoys all her neighbours by sticking her nose into their business. However, on a school trip to the zoo, she discovers there are just some times when it is better not to be too curious with oversized cats! 
'The story, written in deliciously silly rhyme that reminded me slightly of Edward Lear, had us all giggling straight away and is perfect for reading out loud at bedtime.'
Madhouse Family Reviews
'This book has gone down a treat in our house. I'll be keeping an eye out for any more in the series.'
Big Book Little Book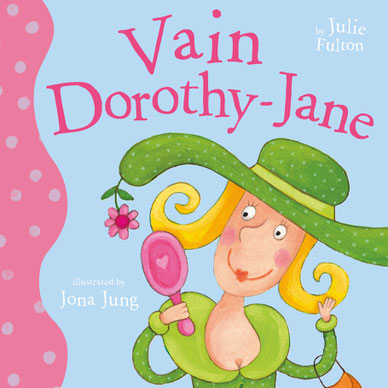 Dorothy-Jane thinks her good looks and stylish clothes make her popular. However, on her way to take part in Hamilton Shady's Best Lady Competition, she has to choose whether or not to put aside her vanity and save the day. 
'Julie Fulton hits just the right note - again - in the third book of her addictive, rhyming Ever So series set in the funny, fictional town of Hamilton Shady. (It) sees musical maestro Fulton on top form in a story that delivers a moral message as well as entertainment with its eye-catching pictures, madcap antics and effervescent rhymes.'
Lancashire Evening Post (lep.co.uk)
'Witty, rhyming prose that's a dream to read aloud and beautiful, bright pictures with little details to look for on every page. My children loved it and so did I.'
Ava D Reader (Amazon)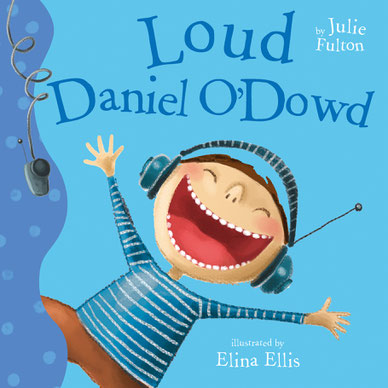 Daniel O'Dowd has a very loud voice and annoys everyone with it. One day, on a school trip to Professor McWhizzit's house, he spies a comet heading towards Earth. Is this the end for everyone? The Professor has an idea how Daniel's supersonic voice might save the day…
If you want a series of wonderful books which are perfect - and great fun - to read aloud, then you need Julie Fulton's brilliant Ever So series. Everyone wants to get out of the way when Daniel O'Dowd comes on the scene - he is so VERY loud. But one day, on a class visit to Professor McWhizzit's house, the professor sends Daniel into space to save the world. The trouble is, Daniel is a typical boy and he doesn't listen to the instructions about getting back again... will he come down to earth? Children love to hear rhymes and rhyming text is a superb way to encourage them to enjoy language. A super book to read aloud and share.
Parents in Touch - http://www.parentsintouch.co.uk/
Rhyming magician Julie Fulton has a way with words and her entertaining Ever So picture book series is a firm favourite with young readers.This is a delightful little cautionary tale about the value of unusual talents, and listening to what other people have to say. Fulton's inventive, flowing and addictive verse is transformed into action through Elina Ellis's enchanting and larger-than-life illustrations.
Lancashire Evening Post - (lep.co.uk)
Yay! It's time for another book in Julie Fulton's awesome "Everso" series, depicting the strange characters and comings & goings in Hamilton Shady. It's a crazy town and there's always something going on. Not the place for a peaceful holiday. Even more so as we meet the latest character dreamed up by Julie and ace illustrator Elina Ellis. Daniel O'Dowd might look like a fairly ordinary boy, but like most boys he really isn't the quietest little dude. In fact most of the residents of Hamilton Shady need to walk around with cotton wool in their ears when Daniel is around. 
Awesome rhymes, perfect comic timing, another cracker from Julie and Elina.
ReadItDaddy -  http://readitdaddy.blogspot.co.uk/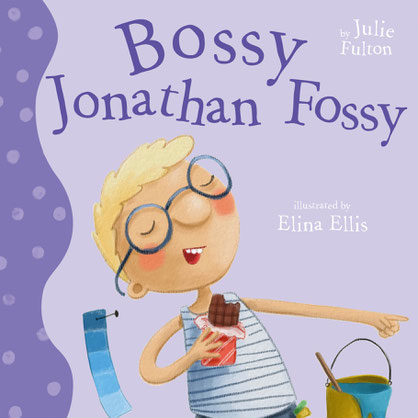 Aaarrr! Pirates have landed in the fictional town of Hamilton Shady in the latest rhyming 'Ever So' picture book story.  Find out what happens when they decide to teach Bossy Jonathan Fossy a lesson he won't forget...
Reviews for Bossy Jonathan Fossy
What a treat! A delightful blend of pictures and rhyme with a perfect moral ending. Julie Fulton's prose hops and skips and gallops and trips merrily across the page with a driving rhythmic style little ones will adore. Coupled with Elina Ellis' detailed and engaging pictures it makes for a wonderful addition to any junior library.
www.amazon.co.uk
A lovely story, written in rhyme, which fairly zips along as you wonder at Jonathan's dreadful behaviour and then savour his suffering on board, of all places, a pirate ship with some people who have a very long list of jobs which have to be done immediately, if not sooner. No Jonathans are harmed in the making of this story, but please do try to remain dignified as you giggle at his discomfiture: the tears running down the face is so not a good look.
www.thebookbag.co.uk
Trained musician Fulton always hits just the right note. The latest laugh-out-loud character from the over-the-top town of Hamilton Shady has his work cut out to keep the pirates' quarters shipshape in this gorgeous new rhyming extravaganza in the addictive Ever So series. Julie Fulton and Elina Ellis' magical mix of bright, bold pictures, entertaining rhymes and hilarious antics will have kids laughing from first page to last as Jonathan learns that lending a hand is far better than handing out orders!
www.lep.co.uk
Alternatively, all 5 books may be purchased as a set :