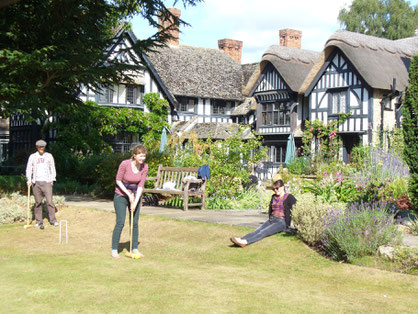 It's that time of year again.....SCBWI's Picture Book Retreat (now an annual event) took place this weekend at the beautiful Holland House near Evesham in Worcestershire.
With the theme 'Dancing Between Words & Pictures', much fun was had by all during our stay.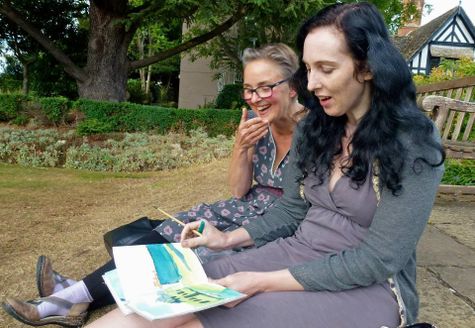 And we did indeed dance between writing and illustration, with workshops on building character (both through use of words and drawings), use of brush pens, making a sketchbook then using it as a creative tool - all ably delivered by Lynne Chapman and Alexis Deacon - plus presentations from two editors; Andrea MacDonald of Penguin Random House Children's Books and Emily Lamm of Hodder Children's Books.
I have come away with a head crammed full of new ideas and information. A big thank you to all the above.
However....
.....the retreat is not just about attending workshops and presentations and eating food (though more about that later).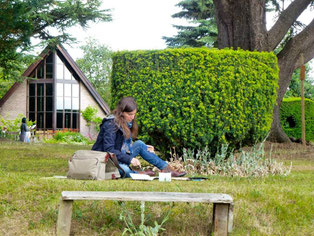 It is also about having the time and space to work peacefully, and without distractions, on words or pictures (or both) be they old or new.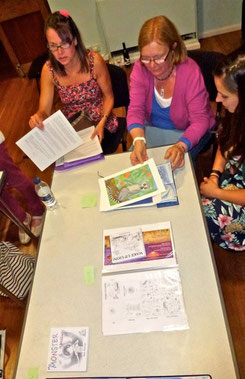 It is about looking at each others work and holding informal critique sessions to help and support each other.
(BIG thanks here to Zoe Thomas for inspiration when I was stuck! Also to Clare Bell who took the time to give me some terrific feed back on texts.)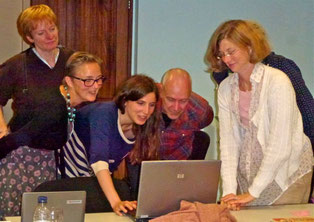 And it is about having fun.......the book everyone is reading on the computer is Clare Helen Welsh's 'The Aerodynamics of Biscuits' out in September. Seems to be going down well!
And then there was the food.
It would be hard to think of another time when I have been fed quite so well and quite so much....and I am not easy to feed, being a vegan with certain allergies. The staff at Holland House were amazing and I enjoyed starters, mains and puddings that were out of this world, not to mention morning tea and biscuits and afternoon chocolate cakes! Everyone, whatever they ate, spoke highly of their meals.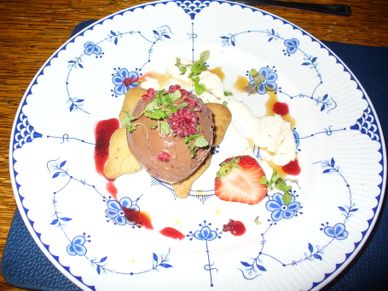 So why have I mentioned the food, other than the obvious? Because mealtimes gave us plenty of opportunity to converse on all manner of topics, some of them even writing/drawing related.
Two stick in my mind.
Firstly, Lynne Chapman, illustrator of such books as Class Two at the Zoo, Giddy Goat and Bears on the Stairs, explained to me how she feels drawing is very much like putting music together. Now, that is a language I can understand....whereas drawing usually is not!
Her talk of the layers of pictures and how they build up, the rhythms we find in them, really helped me appreciate what goes into the process of producing a finished illustration and even stopped me thinking of the whole thing as something far too scary to contemplate trying.
I can now also, thanks to Lynne's foolproof examples, manage to draw reasonably identifiable baby creatures and am thoroughly enjoying experimenting with baby crocodiles, cows, mice, dragons, sheep...the list appears to be endless (though I'm not brave enough to post any of them here just yet).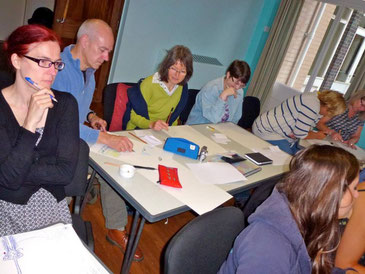 During this particular workshop I was sat next to illustrator and writer Mike Brownlow, which I thought might be rather intimidating. Couldn't have been more wrong. Thanks to him I can now produce a passable angry dog!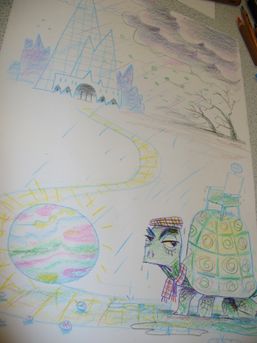 Secondly, one evening meal found a group of us discussing the reasons why writers write and illustrators illustrate for children. What is it that we want out of it? 
There were several thoughts ranging from pure pleasure through attention seeking to not wanting to grow up/still being able to be childlike. I know which of those I empathise with the most!
There is a third event that sticks in my mind from mealtimes - The Great Big Chocolate Mousse Debacle.
Apparently it can be quite distressing to sit opposite someone who is served a vegan chocolate mousse whilst you are not (everyone else was given a highly recommended cheesecake.)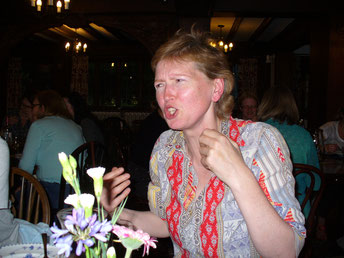 However, some sweet-talking (pun fully intended) of the serving staff and Chef can work miracles......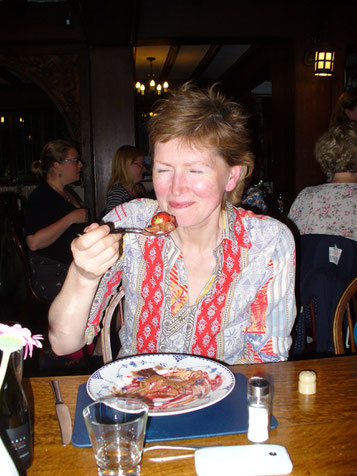 Nice one, Lesley Gordon (named and shamed.....and she wasn't the only one was she, Marie Belmont and Cath Howe?!)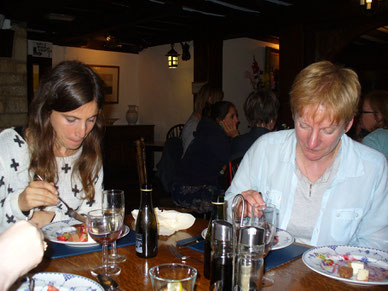 So, what did I come away with this year from the Dancing between Words & Pictures retreat?
More new friends and plenty of memories of course, but also....
a long list of previously 'unknown-to-me' picture book titles that were recommended by attendees at the first night's read & share (I must get to the library soon!),
a new confidence to try a few drawings,
two new picture book ideas in progress (thank you Lynne and Emily),
and even one completed first draft - huge thanks for this to Alexis and his inspiring Saturday workshop.
I also now appreciate how the words and pictures found in a picture book can form a fluid dance partnership.
I will end with an apology to Alexis for not being able to play croquet this year and defend my crown won at last year's tournament. A surf-related rib injury prevented me from brandishing a mallet. (Don't ask.)
For a while it looked as though Alexis would have to play all by himself...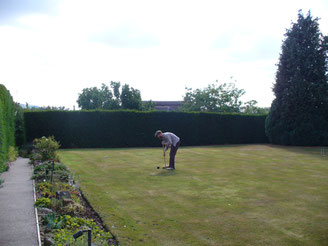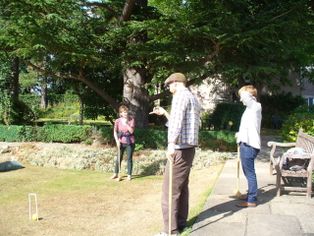 .....but then a couple of interested parties turned up.
Unfortunately play was abandoned due to Alexis' need to be at an art workshop....and never restarted due to the vagaries of the English weather. Ah well, means I am still Scooby PB Retreat Croquet Champ for another year at least.
I'll end with a shout out to Loretta Schauer and Mike Brownlow for all their hard work facilitating the weekend and everyone in SCBWI involved in any way in organising the whole affair. It is a brilliant weekend and I would thoroughly recommend it to anyone wishing to get away from it all and indulge in their passion, be it writing or illustrating, whilst having the golden opportunity to meet with like-minded people and industry professionals - but please keep it a secret so that it won't sell out next year before I can get my ticket!
And finally - a few more photos for your viewing pleasure (thanks to Paul Morton and Sue Eves for some of these.)