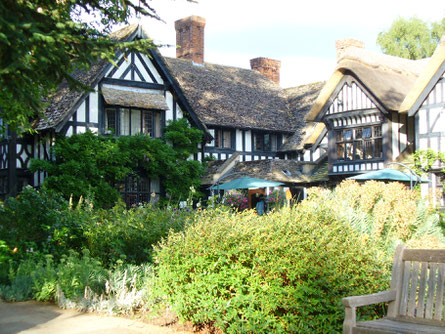 Last year I retreated to the wilds of Worcestershire for a weekend of everything picture book. It was an amazing experience. When I discovered another Retreat was being offered this year I jumped at the chance to go again. So, last weekend, I found myself once more at beautiful Holland House, where the food is healthy and delicious, the surroundings are stunning, the peace that permeates every nook and cranny is just perfect for creative work....and the weather was stupendous yet again!
Old friendships were rekindled and plenty of new ones made as a bunch of picture book writers and illustrators got together to share, support and indulge in a few days away from the distractions of everyday life.
Once again we were treated to two inspirational guest speakers in Helen Stephens ('Fleabag', 'The Big Adventures Of The Smalls', 'How To Hide A Lion') and Alexis Deacon ('Beegu', 'Slow Loris', 'Croc and Bird').
Alexis had us outside on more than one occasion, sometimes carefully studying the wildlife to see things in an original way (which, for Helen, meant stumbling upon the man down the road who was painstakingly arranging his garden furniture and, for me, finding the only autistic bee in existence), and sometimes creating a mega-superduper-crazy-mixedup-allsingingalldancing centipede!
We were also challenged to draw a creature from the words someone else had used to describe 3 different objects....of which we had no knowledge. (Mr Deacon made sure of that. We were not allowed near anyone else's table and we all had to speak in hushed tones). Please bear in mind I am a writer and not an illustrator when viewing the following picture. My words included loose ties, eyes like conker shells and bath plug!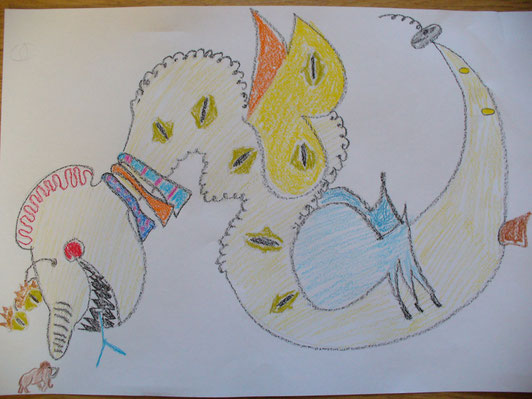 It was fun!
Helen's talk gave us all a wonderful insight into both her work and the journey to becoming an award-winning author/illustrator. Peppered throughout with little anecdotes it was often hilarious. (I shall not forget sitting next to her one mealtime, swapping stories about narrow boat holidays, with tears running down her face as she recalled one particular incident with her father. Priceless!)
There were so many golden nuggets of information from both speakers I've had to make a list on returning home, lest any of them slip my mind. 
We also all had the opportunity to chat with industry professionals about our work. I saw Maria Tunney, senior commissioning editor at Walker Books. It's always useful to get feedback on ideas and stories from those who are reading them day in, day out. The half hour goes by in a flash, but I scribbled loads of notes and had one of those light bulb moments too (about the emotion on each page and where page turns should come), so thank you Maria! 
So, that's the creating dealt with (on so many levels). Crafting? As last year, there was lots going on in 'The Studio'. Lino cuts were on offer, but I still have the vivid memory of stitches after using a stanley knife, so once more kept myself away from that. I did craft a picture book dummy....and even thought up a story of sorts to go in it! 'Needs some work' I think is what the lovely Mike Brownlow was trying to tell me when he kindly looked it over after dinner on the Sunday evening. I know my attempts at sketching pictures made him smile!
And finally....croquet? At a picture book retreat? Oh yes, especially when Alexis Deacon looks at one of the well-cared for lawns and suggests it's perfect for the game.
As luck would have it there was a croquet set!
At first we were sensible. We listened carefully to the rules, as laid down by Mr Deacon, and then we had a sort of practice run....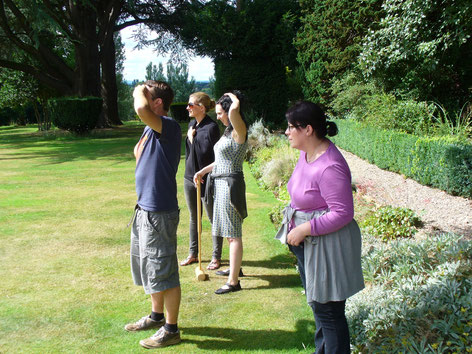 Then, after dinner that night, some of us thought it would be an excellent idea to have another game. Of course, starting at about 9pm did mean the light was beginning to fade. Never let it be said authors and illustrators aren't resourceful beings. It is amazing how much you can see by the light of a couple of smartphones. I think playing at 11 o'clock at night, in the pitch black, must suit me....I won!
And then the final breakfast arrived. Each of us dutifully handed our postcard in to Anne-Marie....the postcard on which we had, as last year, written our achievable aims and aspirations for the rest of the year. It will pop up in the post some time in the future as a gentle reminder. (Did I achieve my aims from last year's retreat? That would be telling.....which is quite telling in itself!) 
Goodbyes were made and we were all on our respective ways home, full of inspiration and ideas to carry us through the coming months.
I'd like to say a BIG thank you to Anne-Marie Perks and Bridget Strevens-Marzo for organising another amazing retreat. Another one next year I hear you say? Count me in!