Last Friday I celebrated the launch of the third book in my Ever So series - Miss Dorothy-Jane Was Ever So Vain - with a delicious lunch in Covent Garden courtesy of my publisher Maverick Arts Publishing. Debut picture book author Alice Hemming and her illustrator Kimberley Scott celebrated too....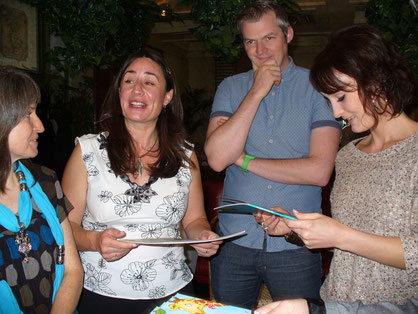 We were honoured to have lots industry professionals attend to help us celebrate. I thought about naming them all, but worried I'd forget someone! I was personally ecstatic that Viv Bird, chief executive of Booktrust gave up her time to come along. If you've navigated your way around my site you'll have realised I'm a huge fan of their work.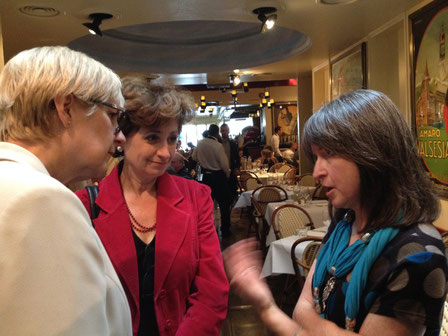 Actually, the three of us in the above photo spent most of our chat extolling the virtues of narrow boating, but that's another story.
The guest of honour was Julia Eccleshare, children's book reviewer for the Guardian. I'd heard her speak at a Writing West Midlands event last year, so was delighted to meet her in person and have the opportunity to talk over lunch. And this brings me round to the subject of my title for this post.....
                                                 When does it get easier to write?
As she handed me my copy of Miss Dorothy-Jane, Julia reassuringly stated that now there is a 'town map' taking shape for the Ever So books and new characters are being expertly created by my wonderful illustrator Jona, the next books will be easier to write.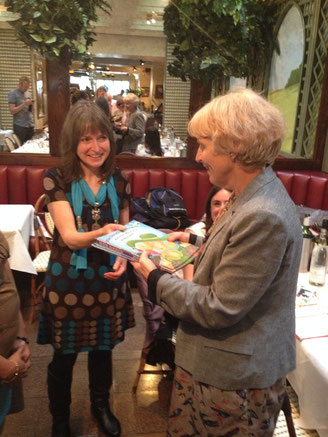 I really wanted to believe her and I do know what she meant. It's just that I've been struggling with the next one for almost a year. Mmm...
Then I came across a post by Meg Rosoff, author of six novels, various short stories, a novella and several picture books. She clearly states that each book 'has been hell to write in one way or another.'
That filled me with joy.
You can read what else she has to say on the subject here - www.tinyurl.com/oqsbx7o
What did make me laugh was her comment that, after months of pacing, despairing, wasting time on Facebook and twitter, cutting, pasting and generally agonising over everything, a fresh faced interviewer will glibly say, 'You make it look so easy.' Like her, I would want to deck him.
Then I had a bit of an epiphany. It is easier to write the more you do it. Just to sit down and write, that is, without worrying whether you should be concentrating on the next pressing project or working out its finer details.
I experimented. I sat down and simply wrote something, anything. I didn't bother about what I was 'supposed' to be doing. I enjoyed myself. I felt refreshed. It was a bit like the days when I should have been practising set exam pieces for the piano, but sat and played anything else for hours instead. Freedom. (I hope none of my current music pupils read this!)
I am now back on track and working on the next Ever So story. Not the one I have been figuratively hitting myself over the head with for the past year. I had a good look at the books in the series so far and new characters and traits have sprung in to life. Thank you Julia, you were quite right.
I'm not saying it will be any easier to produce the finished product. I'm quite certain the rhyming dictionary will be stamped upon many more times before I'm done. It's just that I think I know where I'm coming from and heading for now. Maybe it's easier when the books form a series. For those who write stand-alones it is possibly very different. Any thoughts any of you?
I'm sure I'll be doing lots more pacing, despairing, cutting and pasting, but at least the ideas are flowing again and I'm excited about the whole creative process.
As Meg Rosoff writes : 'Getting stuck is what happens. Everyone gets stuck. (Writing is) one of the few jobs you can do without changing out of your pajamas. I console myself with the thought that if writing were easier everyone would want to do it.'
So perhaps it doesn't necessarily get any easier to write the next book, but we may develop strategies for dealing with the whole situation, whether that's free writing, playing the piano or eating tons of cake.
Finally, I was asked at the launch whether it was still as exciting to see my story in print third time round. I'll let the following photos answer that one...