I never find research boring, whatever form it takes. I've always loved poring over books and once spent an entire day in a library, completely forgetting about lunch. Those that know me will understand just what an astounding event that was. But I am aware that some writers don't always enjoy this aspect of their work.
Is research really necessary? What form should it take?
It possibly depends on what type of book you are creating, but I think all books need some background understanding and experience regardless of whether they are fact or fiction, reality or fantasy, historical or modern.
Picture books require you to know how a child thinks and what they like - so spend time with children of the appropriate age and act like a three year old yourself. See, fun research.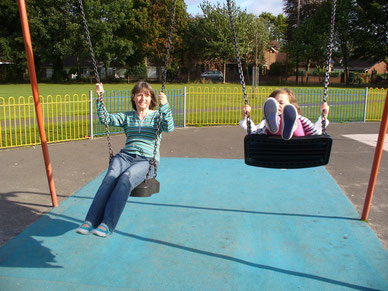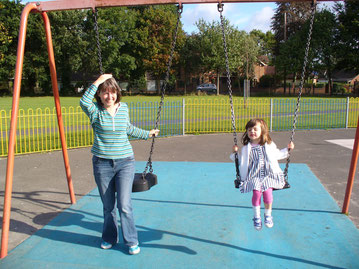 Okay, maybe you should also delve into some written texts and have a look at the current language levels set for your chosen age group and think about using words that are suitable. That can be fun too, honest, but don't look at my published picture books for examples - 'do as I say, not as I do' springs to mind here. I personally believe the occasional 'big' word is a good thing.
If you're writing for older children get out there and see how they act, listen to how they speak, talk to them.
If you're writing crime then spend time with the police (rather than the criminals I suppose, though there are always prison visits), but I wouldn't recommend trying out your chosen method of criminal activity.
If you're writing a story set in the past then books and visiting sites or museums might be your only courses of action. The more recent past, of course, can lead to fascinating chats with those who lived through your chosen era, which brings me on to my current research.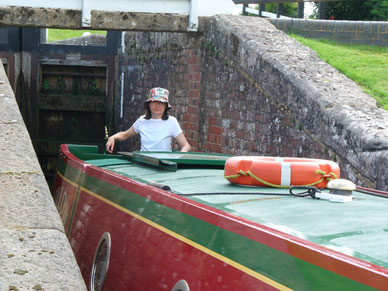 Yep, I've been on the canals again. I'm still working away sporadically at my middle grade story set in WW2 on the Grand Union and I do read lots of books on the subject, but I felt I needed a refresher to get the finer details of canal life in my head again - any excuse.
So I sat back with pen and paper in hand, listening to the water lap against the bows as we dawdled along the lock-free sections, watching the herons and kingfishers, damsel and dragonflies, the bats that bounced along through the tunnels with us and the swimming grass snake ---- euch! (Or 'oogly' as my husband put it - now there's a name for a character).
Then fate stepped in and handed me a meeting with a gentleman who was born and brought up on working boats in the 1950s. A little after my chosen era, but life on the boats was much the same.
It was while we were working our way up Watford staircase locks that we got chatting - as you do, standing hanging on to the mooring ropes whilst queueing to get in the locks.
I couldn't quite believe my luck. He was great, lending me books, answering my questions and even letting me borrow his treasured DVD of a children's story set on the canals where the main character was based on himself. What I found out may only add colour to a few sentences, but it was fun chatting and learning more about life on the boats - thank you, Tom (and his wife Pat for not minding!)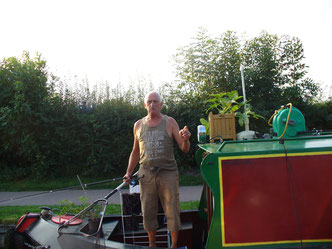 I also popped in to the museum at Foxton - another staircase of 10 locks. Apparently operating locks is hard work.....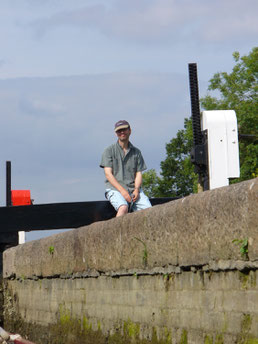 .....does it look all that hard to you?
Anyway, they have a fantastic little mock-up of a butty boat cabin in the museum (the butty's the engineless working boat that was towed along behind the one with the motor).
While I was there a young lad was inside having a look. It was tiny. You could literally touch all four sides at once. I wasn't going to miss this chance for a bit of 'live' research, so I got him to lie on the floor and tell me what he could see/if he bumped his knees on the sides turning over/did he think it would be easy to sleep in there? He was really helpful. Then his mother came over to see what on earth I was doing. It was fine. 
Some of the aspects he pointed out I hadn't even thought about so yes, research is necessary if you want to be convincing in your writing.
I also managed to fit in a snippet of research at the National Space Centre on a day off the boat. I have veered wildly off target with my next 'Ever So' picture book, but please don't tell my publisher just yet. We may be venturing some distance from Hamilton Shady....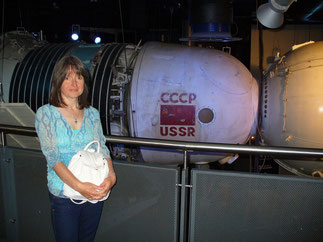 So the bulk of my research this summer has been active and taken place outside. I hope I've shown it can be fun. I never actually set out to do much on this holiday, other than soak up the atmosphere on the system, but when opportunities come your way you have to grab them. That's what makes it all the more fun.
I think I'll sum up by saying - always have that notebook and pen (or iphone app or whatever the modern thing is!) ready and waiting. Research can pop up to be done anywhere at any time. It's a big adventure.